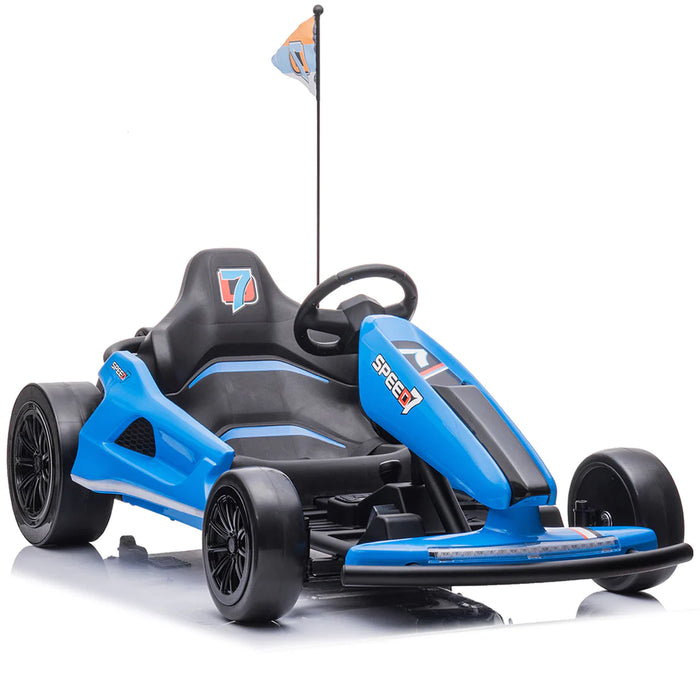 24 Volt Kids Electric Go-Kart with DRIFT Function - Blue
Ready for some action? MiniMotoToys presents a NEW 2023 DRIFT KART Model.
For Kids who love sports riding action and speed.
24 Volt 14 ah Battery - 1 wide Leather Seat- Front PU Wheels- Rear Drift Wheels (plastic) for great drifting ability. For kids 5 up to 13 years old- weight up to 120 Lbs, Select from 2 speeds forward - 3 to 6 MPH (up to 7.5 MPH in drift mode)
☀️ POWERFUL Upgrades!

This Ride-on electric Supercar boasts a great-looking design, 1-Soft wide Leather Seats, a 24 Volt Battery, Updated Powerful 2 motors 24v750(3250RPM), with a caster wheel and pulls handle, and is convenient to carry. The seating area is complete with adjustable play seat belts.
This Newest 2023 high-end Engineering model will make a fabulous present for your child's next birthday!
This rear-wheel-drive car holds two powerful, high torque drive motors 24v750 (3259 RPM) to help take it into corners sideways just like a true drifter should! Exclusively updated motors by MiniMotoToys company.
CAR SPECIFICATIONS:
Color: Blue.
Drift Function
1-WIDE Leather seat
PU- Wheels on the front
Heavy duty Rear Drift wheels- for great drifting ability.
Slick drift plastic wheels at the back
Forward/Neutral/Reverse Gears Shifter.
High /Low-speed switch.
Front and rear lights
Motors: 2 – 24V750(3250 RPM) HIGH TORQUE. Dual Upgraded Motor.  

Huge Battery!

 

24V 14Ah

 Battery Pack for longer operating time per charge

Metal Frame.
Weight capacity of 120 lbs
Perfect for kids 6-13 years of age
9" EVA/Rubber Wheels in front for control / 11" Slick drift wheels in the rear

It drifts best on asphalt and smooth (troweled) Concrete

The 24-volt Drift Kart is recommended for use on smooth, flat surfaces.
The Drift mode will not work on grass.
Media Player Allows for Playing Music Files via Bluetooth, USB, MP3 ports
Dimensions: 52"L x 30"W x 20"H
9" EVA/Rubber Wheels in front for control / 11" Slick drift wheels in the rear
Seat size X 16 inches. 
Normal Speed: 2 Gears (Approx 3 to 6 MPH)
Drift Mode Top Speed (About 7.5 MPH)
Push-Button Start with Horn and Start-Up Sounds
Battery Level Display
Leather Seat with Adjustable Seat Belt for Long Comfortable Rides
PLEASE NOTE: THIS DRIFT-KART MODEL DOESN'T HAVE REMOTE CONTROL.
This ride-on toy car features an option to switch from a regular drive to the DRIFT mode. You need to turn the DRIFT switch ON then the speed will be faster!
This item cannot ship to California addresses.
☀️ These cars have a plastic body, so minor blemishes in the plastic or chrome parts can occur during the shipping process; However, clients are expected to communicate with our technical support team immediately if a product is received significantly damaged.
ENJOY YOUR DRIFT-RACING RIDE-ON CAR!!!

☀️ MiniMotoToys offers a 6-month Warranty on electrical parts, excluding batteries, tires, and chargers. All products come with Lifetime tech support. All replacement parts for all of our toys are in stock!
For more questions about this product, don't hesitate to contact us.