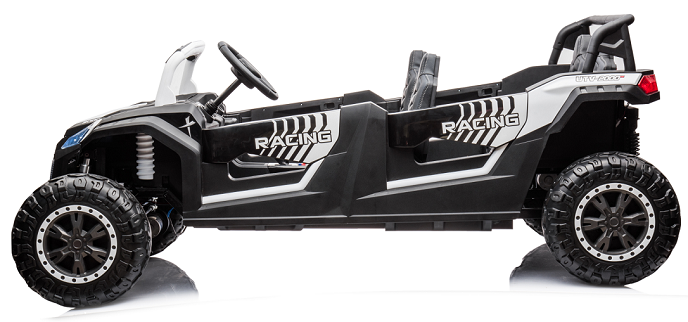 Electric Buggy A033 white 4 Leather Seats 4 Updated Motors 150 Watts EVA Rubber Wheels
MiniMotoToys present Newest Sports Buggy, UTV, 2022 Model, in the Market with 4 Leather Seats 24 VOLT Battery 4 Updated Motors 150 watts.  
This new unique model has 4 Updated Motors- 150 Watts.
Buggy style equipped with soft, breathable, durable leather! Your child will be in comfort during the trip! Adjustable 4 Seats.
Exclusive 2 SPEED Slow Start Then Gently Accelerates Up Fast Speed.
Extra high ground clearance for all-terrain - 9 Inches - Perfect Traction Control. Actual 4 metal spring suspensions for more comfort, 

The maximum rider's weight is 200 Lbs, Perfect age 2 to 7 years old. 
Your children will be able to listen to their favorite music MP3, USB, TF CARD SOCKET and get more travel pleasure!

The new model will not leave children indifferent. The kids' car can be controlled by the steering wheel and foot pedal. Please Note this UTV Buggy model doesn't have a remote control. 
Four setters and four side doors can be open. Suitable for kids aged 2 and up. The suspension system for shock absorption ensures a smooth driving experience on bumpy roads.
Adjustable Height for Steering Wheel.
CAR SPECIFICATIONS:
Color: White/Black.
Opening doors and hood
Working LED headlights, working gas pedal, and horn
Three-spoke steering wheel
15" EVA Rubber Tires
Metal spring suspensions
4 Motors 150 Watts.
USB, SD, MP3, 
4 Leather seats, adjustable: 
Car Size: 74x39x30 inches
Max rider weight: 200 lbs
Max speed 3 to 6 mails.
Perfect age 2 to 7 years old
PLEASE NOTE:
☀️ These cars have a plastic body, so minor blemishes in the plastic or chrome parts can occur during the shipping process; this is normal. However, clients are expected to communicate with our technical support team immediately if a product was received significantly damaged.

ENJOY YOUR BUGGY RIDE-ON CAR!!!
☀️ MiniMotoToys offers a 6-Month Warranty on parts excluding batteries, tires, and chargers. All products come with Lifetime tech support. All replacement parts for all of our toys are in stock!
For more questions about this product, don't hesitate to contact us.