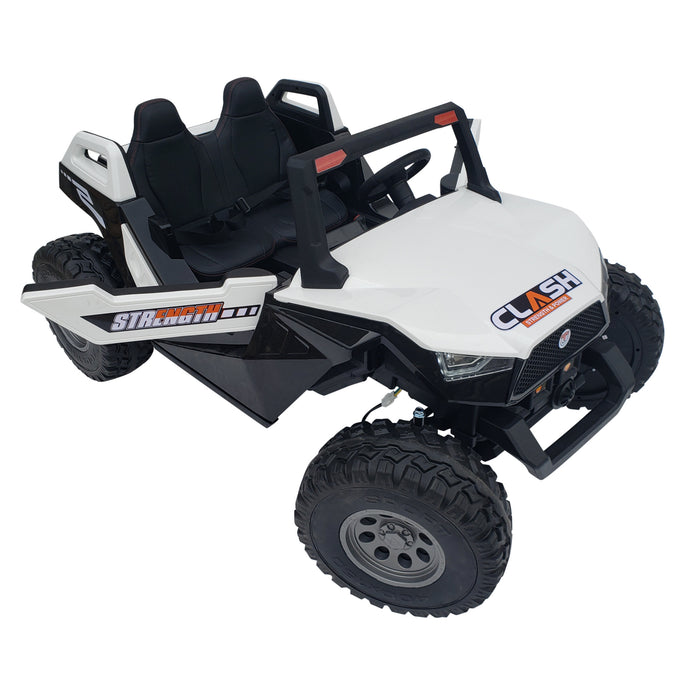 4x4 24 Volts Kids Powered OFF-ROAD BUGGY MP4 TV Screen EVA Rubber Wheels 2 Leather Seats Remote Control
SKU
Buggy-sx1928-mp4-white
Top Rate New Development Kids Electric Ride On Buggy 4x4 CAR! White
 

MP4 TV Screen Version

It's one of our largest UTV Models - Exclusive MiniMotoToys - 24 VOLT VERSION.

Exclusive Edition Largest UTV buggy on the market suitable for bigger kids from 3 to 9 years old up to 4 feet high and maximum weight up to 130lb. The spacious and comfortable three seats with 2 Leather seats - 21 inches, and a hidden stool in front.

☀️ Exclusive MiniMotoToys UPGRADES!

15 Inches Explosion-proof durable rubber wheels feature low noise, and firm grip and are suitable for all terrains. That ensures that one's kids can keep trucks in whether they are riding on grass, hard surfaces such as concrete, or rough terrain.

This Buggy ride-on car is a fantastic recreational motor vehicle with large and wide rubber tires, designed for OFF-ROAD!

Buggies, almost by definition, are all built to be driven fast and hard. A comfortable salon has enough space even for taller riders (kids 3 to 9). Buggy is a great option and is our pick for the best kids' go-cart. 

This electric Buggy runs on a 24 Volt battery, upgraded to four bigger driving motors - 55 Watts.

This Buggy has plenty of durability and safety features for a Ride On Car with a 2.4G New generation Remote Control. You can stop the car from a long distance when your child is driving near potential danger. Also, the remote can control the vehicle's speed and direction forward, reverse, left, and right. If your kids are not big enough to handle the car themselves, you will be joyful to do it for them taking the remote control in your hands!
CAR SPECIFICATIONS:
Color: White
Exclusive 24-volt battery
Four-wheel suspension system
LED-Head/Tail
Opening doors
AUX INPUT, SD Card slot, USB, TF card socket
MP4 TV Screen
Battery play time is 45 to 85 minutes depending on the kids' weight and road
4 Motors 55 Watts Each
Speed: 4 to 6 mph
Tire size: 15 inches
Seat size: 21 inches
Max weight: 130 lb
Car size: 57x38x31 inches
Perfect age 3 to 9 years old
PLEASE NOTE:
Kids 2-4 years old ride together. Kids 5-9 years old, one rider at a time.
☀️ These cars have a plastic body, so minor blemishes in the plastic or chrome parts can occur during the shipping process;  However, clients are expected to communicate with our technical support team immediately if a product was received significantly damaged.
ENJOY YOUR BUGGY RIDE-ON CAR!!!
☀️ MiniMotoToys offers a 6-Month Warranty on parts excluding batteries, tires, and Chargers. All products come with Lifetime tech support. All replacement parts for all of our toys are in stock!
For more questions about this product, don't hesitate to contact us.