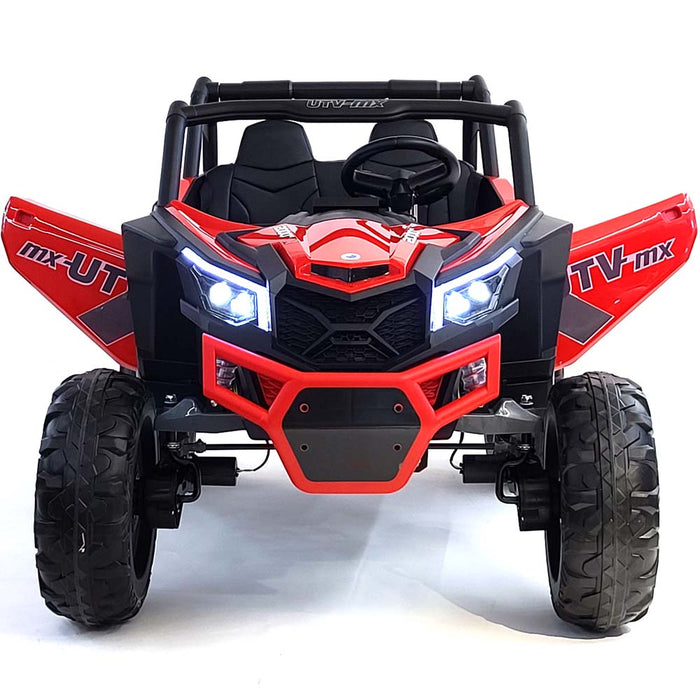 Electric Ride On Buggy-XMX613-24V-MP4-red 2 Seats Rubber Wheels 4 Motors- 60 Watts Each MP4 TV Screen
SKU
Buggy-XMX613-24V-MP4-red
                  NEW 2023 - OFF ROAD RIDE ON UTV Buggy model.                                                   BEST FOR HARD ROCK AND GRAVEL BUGGY - XMX 613. 
                       Bigger and Stronger New Model in the Market! 
  UPDATED OPTION FROM MINIMOTOTOYS MP4 TV SCREEN YOUR CHILDREN WILL BE ABLE TO WATCH THEIR FAVORITE CARTOONS AND GET MORE TRAVEL PLEASURE), 24 Volt Battery .4 Updated Motors- 60 Watts Each. 2 Leather Seat, EVA Rubber Wheels, 
                                                       RED  Color.  
2 Leather Seats One of the Biggest Ride-On Cars on the Market ** This kid's buggy has a great looking design for two-person (1 TO 4 Years old) or 1 Driver at the time 5 years old and up! The seating area is complete with adjustable play seat belts. REAL 24 volts! The Buggy will make a fabulous present for your child's next birthday. 2 LEATHER SEAT, UPGRADED By MiniMotoToys - 24 VOLTS Battery, 4 Updated motors- 60 watts each! Shock Absorbers will provide your baby with a very soft Drive. Powerful HIGH END 4 Upgraded Premium Drive Motors- 60 watts each. . Updated Huge RUBBER TIRES SIZE  16 INCHES. Exclusive UPDATE. Exclusive 3 SPEED New 2.4G Remote Control With Stop Emergency Button for Parents, you CAN STOP THE CAR LONG DISTANCE. IF YOUR KIDS ARE NOT BIG ENOUGH TO CONTROL THE VEHICLE THEMSELVES YOU WILL BE JOYFUL TO DO IT FOR THEM TAKING THE REMOTE CONTROL IN YOUR HANDS! AUTOMATIC FULL-TIME ALL WHEELS DRIVE OPTION. 3 speeds on the remote control - low, fast, and super fast -Slow Start Then Gently Accelerates Up Fast Speed Extra high ground clearance for all-terrain - 12 Inches - Perfect Traction Control. Exclusive UPDATE. Real metal spring suspensions FRONT AND BACK for more comfort, during the OFF-ROAD driving, Loaded songs + USB, SD, MP4 TV SCREEN.  Exclusive UPDATE. Maximum weight 110 Lbs, maximum rider height 5 inches.  2 seats ( seat width 23 inches), spring suspension. Three-spoke steering wheel, opening doors, and hood. Working LED headlights- front and back, working gas pedal, and horn. LED voltmeter, forward and reverse gears.  SPEED 4 to 7 KM/H. Depend on the kid's weight and road! 
24 Volt Battery. 
4 Motors- 60 watts each.
2 Leather Seat - 23 inches. 
EVA Rubber Wheels- 16 inches. 
Perfect for kids 2 to 8 years old.
Max Weight - 110 Lbs. 
Max Height - 5 Inches. 
Car Size.
Length- 54 inches.
Width - 35 Inches.
Height - 23 inches. 
                   For more questions about this product, please Contact Us 
MiniMotoToys offers a 6-Month Warranty on parts excluding batteries, tires, and Chargers. All products come with Lifetime tech support. All replacement parts for all of our toys are in stock! If needed! Please note: these cars have a plastic body and minor blemishes in the plastic or chrome parts can occur during the shipping process. However, clients are expected to communicate with our technical support team immediately if a product was received significantly damaged.