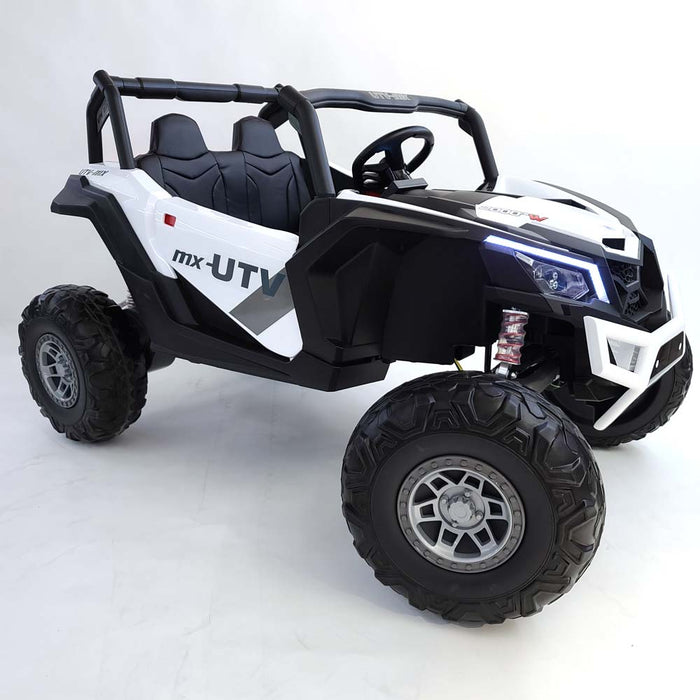 Electric Ride On Buggy-XMX613-24V-MP4-white 2 Seats Rubber Wheels MP4 TV Screen 4 Motors 60 watts each 24 volt battery
SKU
Buggy-XMX613-24V-MP4-white
Kids Off-Road Electric Ride On Buggy Car 24 Volt Battery - 4 Motors- 60 Watts EACH, Remote Control - 2 LEATHER Seats. EVA Rubber Wheels. MP4 TV SCREEN Newest Updated Model of 2022. 
Newest Buggy Sport Model xmx 613 24v-White  is best for hard rock and gravel through quality inspection and certification. Biggest Stronger NEW model in the market with updated option MP4 TV Screen your children will be able to watch their favorite cartoons and get more travel pleasure.
Let the adventure begin for your child in their very own XL 2-seat kids ride-on buggy!
There are no limits when your child has 4WD – 240 Watts motors and foam rubber tires for better traction. The XL 2-seat vehicle also includes MP4 TV Screen, USB, SD player so you can upload your child's favorite cruising music, cartoons along with being able to listen to pre-loaded songs & story time.
So, let them kick back in the nice leather seat, turn on all the cool lights, and enjoy the open road (sidewalk). You will have the peace of mind that you hold the remote control in your hands to stop or divert your little ones from potential danger. If the child is not old enough to control the car, the parent can use the remote control to drive the car while enjoying the child's face light up.
One of the biggest ride-on cars in the market! This kids' buggy has a great-looking design and a two-person (2 to 8 years old) seating area complete with adjustable play seat belts.
Buggy will make a fabulous present for your child's next birthday.
Eco XL 2 leather seats, shock absorbers will provide for your baby a very soft drive!
☀️ Powerful edition! Exclusive UPGRADE!
4 Bigger motors upgraded to the MOST POWERFUL 240 watts. 
4 Updated motors- 60 watts each.
Upgraded Huge EVA Foam RUBBER TIRES-16 inches.
Powerful HIGH END Upgraded Premium Drive Motors.
We are featuring Exclusive 3 SPEED: low, fast, and super fast-on the remote control.
Slow Start Then Gently Accelerates Up Fast Speed.
New 2.4G Remote Control with Stop Emergency Button for Parents. 
Car Specifications:
MP4 TV Screen, USB, SD card socket 
Forward and backward
LED lights
Foot pedal/Remote control, High/low speed
Actual 4 -wheel drive – 60 watts each
Suspension system
EVA foam rubber tires for better traction on all surfaces
Battery:  24 volts
Car size 54-35-23 inch
Maximum weight 110 lbs
Maximum rider height 4'8"
XL size seats - 23 inches
Speed: 2-5 mph
Runs up to 45-90 minutes per charge
Remote control: 2.4G with stop button
Please NOTE:
Recommended age: 2 to 8 years old. Kids 2 to 5 years old ride at the same time! Kids 6 to 8 years old, only one rider at the time
Batteries and charger included
Some assembly required
ENJOY YOUR BUGGY RIDE!!!
For more questions about this product, don't hesitate to contact us.
☀️ MiniMotoToys offers a 6-Month Warranty on parts excluding batteries, tires, and Chargers. All products come with Lifetime tech support. All replacement parts for all of our toys are in stock!
☀️ Please note: these cars have a plastic body, and minor blemishes in the plastic or chrome parts can occur during the shipping process; this is normal. However, clients are expected to communicate with our technical support team immediately if a product was received significantly damaged.