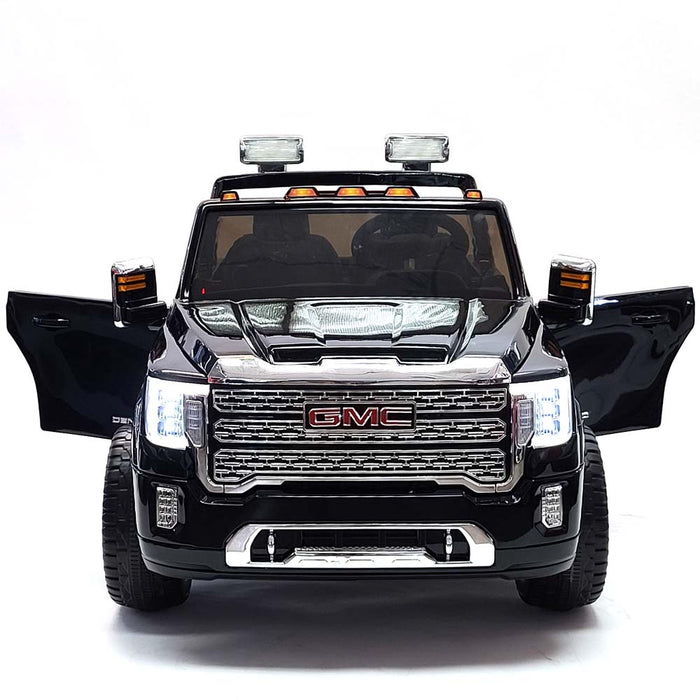 12v 4x4 Kids Powered GMC HL 368 Track 2 Leather Seats Rubber Wheels Remote Control
Kids Electric Powered Ride On GMC HL 368 Black Color, Licensed by GMC
It is a Luxury power rubber wheels kids electric ride-on car powered by 12 volts 14AH Rechargeable Battery. Using the 2.4G remote control with a stop button, parents can stop the vehicle from a long distance when their child is driving near potential danger. Also, the remote can control the car's speed and direction forward, reverse, left, and right. If your kids are not big enough to handle the vehicle themselves, you will be joyful to do it for them taking the remote control in your hands!
Enjoy switching speeds on the remote control - low & fast start slow and gently accelerate.
The build quality is exceptional, making this electric car the perfect gift for any child. Kids will love to step on the gas and go!
Let your kids celebrate true style in a ride on an electric GMS Licensed Ride On TRACK - This kid's car is a realistic scale of a genuine GMC Model. Optional parental remote control The ride on Track can be used with the normal in-car controls, using the pedal with the forwards/reverse gears and steering wheel, or can optionally be used remotely with the parental control. This kids' car has a seat belt fitted to keep your child safe using the parental remote option.
Rubber wheels are made of high-quality non-toxic material. Headlights are pretty bright when the vehicle moves forward and backward.
Steering wheel with music, improvement dashboard with USB interface MP3 port music, Leather Seats, 3 Speed, Emergency Car Stop Button.
CAR SPECIFICATIONS:
Color: Black
Opening doors and hood
One-button start
Multifunctional steering wheel with music effects
Four wheels drive
Horn signal
Front and back LED light
4 Motors 45 Watts Each
MP3 socket, power display
Leather Seats with Safety Belts
Battery: Big Capacity Rechargeable 12V 14Ah Longway

PREMIUM version with 4WD

Perfect age: 2 to 5 years old
PLEASE NOTE:
This item cannot ship to California addresses.
☀️ These cars have a plastic body, so minor blemishes in the plastic or chrome parts can occur during the shipping process; However, clients are expected to communicate with our technical support team immediately if a product is received significantly damaged.

ENJOY YOUR GMC RIDE-ON CAR!!!
☀️ MiniMotoToys offers a 6-month Warranty on parts excluding batteries, tires, and chargers. All products come with Lifetime tech support. All replacement parts for all of our toys are in stock!
For more questions about this product, don't hesitate to contact us.