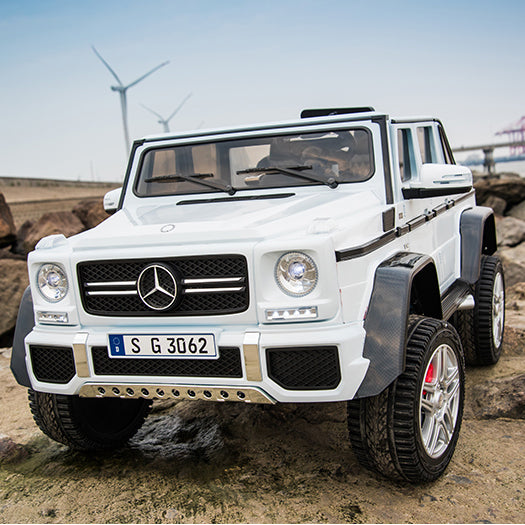 Copy of Kids Electric Ride On Mercedes G 650 Maybach WHITE Paint Remote Control Riding Toy Car *4 Motors*2 Large Leather Seat TV Screen *Remote Control
     Top rate New development of 2020 Mercedes G650 MAYBACH  
                           Exclusive white Paint By MiniMotoToys.
                        PREMIUM QUALITY licenses by Mercedes!  
Super large KIDS ELECTRIC RIDE ON CAR WITH 2 Large Leather SEAT!!!  Working Head Lights and Battery Capacity Indicator, which ensure your kids are well entertained. This kid-sized automobile is sure to inspire a lot of playtimes that will include exciting adventures from his creative imagination. With the 2 -12 Volts Battery Power, it can reach a maximum speed of 4 to 6 KM/H .!!!                                                    Explosion-proof wheels - Exclusive option MiniMotoToys !!!             low noise! strong grip! durable and suitable for all terrains!!!                      IT'S a recreational 4 Upgraded Bigger Motors !!!                  This Model Has Wide Rubber Wheels !!! designed for use on OFF-ROAD JEEP almost by definition,                                                                                                   ***MP4 TV SET SCREEN***                                          YOUR CHILDREN WILL BE ABLE TO WATCH THEIR FAVORITE CARTOONS AND GET MORE TRAVEL PLEASURE !!!! Are built to be driven fast and hard. COMFORTABLE SALON. For kids up to 110 LB !!! Perfect for age 2 to 7 Years Old ! 2 to 4 Years old 2 Drivers at the time! 5-6-7 Years old - 1 Driver at the time!                                     Maybach JEEP is a great option and is our pick for the best kids' go-cart. This is an electric CAR which runs on 2 Battery by 12 volt 7 AH VOLT BATTERY One of its outstanding features drive system. This ensures that one's kids can keep trucks in whether they are riding on grass, hard surfaces such as concrete, and rough terrain. This MERCEDES MAYBACH Model has plenty of durability and safety features as well Ride On Car With.....                                                         2.4G NEW GENERATION Remote Control YOU CAN STOP THE CAR FROM DISTANCE when your child is driving near potential danger. Also remote can control the speed of the car and direction Forward, Reverse, Left, and Right.. updated Primary Plastic for Body! Big Rubber Wheels! Two doors can be open., 4 Updated driving motors 55W. Four wheels suspension system USB, TF card socket,! Long Travel Suspension !! 
MiniMotoToys offers a 6-Month Warranty on parts excluding batteries, tires, and Chargers.
All products come with Lifetime tech support. All replacement parts for all of our toys in stock! If needed! Please note: these cars have a plastic body, and minor blemishes in the plastic or chrome parts can occur during the shipping process; this is normal. However, clients are expected to communicate with our technical support team immediately if a product was received significantly damaged.