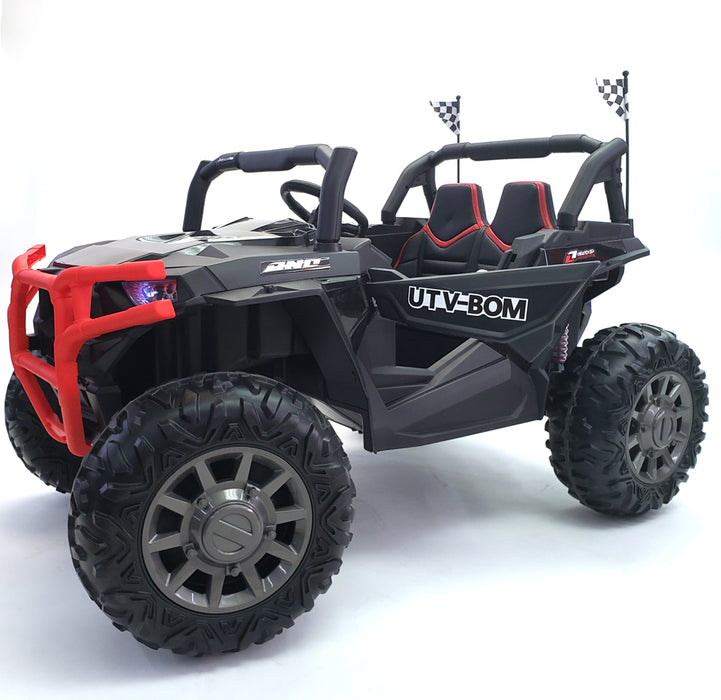 24 Volt Powered Ride On Kids Electric Buggy 2 Leather Seats 3 Speed 2 Motors 200 Watts TV Screen
SKU
Buggy-BJC999-24V-black
Kids Electric Ride-on Car Buggy BJC 999 Black Color with Red Rim in front!
UTV-BOM buggy ride-on car for kids is a great option and is our pick for the best kids' go-cart. It is a sports category Electric Car Buggy that runs on two 12 Volt 7A batteries to reach a maximum speed of 4 to 6 mph! 
Explosion-proof huge 15" wheels - exclusive option available only in the Minimototoys! Your kids can keep trucks in' whether they are riding on grass, hard surfaces such as concrete, or rough terrain. One of the main reasons this has made our list of the best kids' buggies is two leather seat capacities. It is essential to know the top features to look for. 
New generation remote control 2.4G with the Instant stop button - you can stop the car from any distance when your child is driving near potential danger. Also, the remote can control the car's speed and direction forward, reverse, left, and right.
☀️ Exclusive UPGRADES!
Upgraded primary plastic body
2 upgraded premium quality leather seats!
Explosion-proof Huge EVA Rubber 15" wheels
Motors x 2-200 Watt motor
MP4 TV set screen* - your children will be able to watch their favorite cartoons and get more travel pleasure! Built to be driven fast and hard. Comfortable salon. Electrical pedal control and a multi-functional steering wheel with a musical effect also have great additional features, including front and rear headlights. Four-wheel suspension, a horn for awareness, and sporty and safe seats!
CAR SPECIFICATIONS:
Color: Black with Red rim in Front
Four-wheel suspension
Dashboard and Horn
Realistic working Front Headlights
Forward/ Reverse Gears
MP4 TV set screen*
Battery Power – 2 x 12V (24V total) 
Battery play time is 45 to 85 minutes, depending on the kids' weight and road
Speed: 4 to 6 mph depending on weight
Tire size: 15 inches
Seat size: 21 inches
Max rider weight: 110 lbs
Car size: 51 x 33 x 36 inches
Perfect age 2 to 7 years old
PLEASE NOTE:
Kids 2-3 years old ride together. Kids 4-5 years old, one rider at a time.
☀️ These cars have a plastic body, so minor blemishes in the plastic or chrome parts can occur during the shipping process. However, clients are expected to communicate with our technical support team immediately if a product was received significantly damaged.
ENJOY YOUR BUGGY RIDE-ON CAR!!!
☀️ MiniMotoToys offers a 6-Month Warranty on electric parts,  excluding batteries, tires, and Chargers. All products come with Lifetime tech support. All replacement parts for all of our toys are in stock!
For more questions about this product, don't hesitate to contact us.