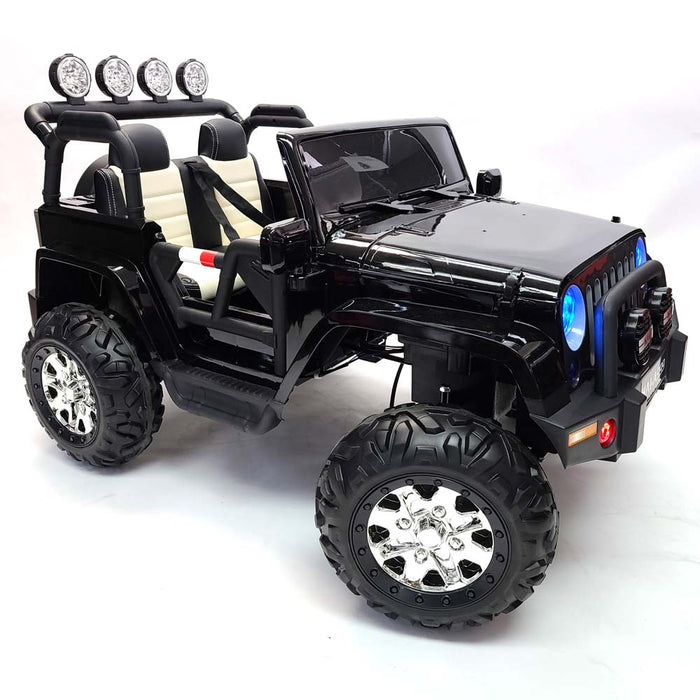 Kids Electric Ride On Car Remote Control A999 Black 3 Speed 4 Motors Remote Control Toddlers Riding Toy
New 2022 version SUV Off-Road A999 Black Paint. BEST FOR HARD ROCK AND GRAVEL!
Let the adventure begin for your child in their very own XL 2 Seater Kids ride on 4WD.
There are no limits when your child has 4WD and upgraded foam rubber tires for better traction. The XL 2 Seater electric toy vehicle also includes an MP3 player so you can download your child's favorite cruising music, along with being able to listen to pre-loaded songs & storytime. 
The XL also has a genuine leather seat. So, let them kick back in the nice leather seat, turn on all the cool lights, and enjoy the open road (sidewalk) while you have the peace of mind that you hold the remote control in your hands to stop or divert your little ones from potential danger. 
Enjoy switching speeds on the remote control - low, fast, and super fast: start slow and gently accelerate.
New 2.4G Remote Control With Stop Emergency Button for Parents. You can stop the car from a long distance!
If the child is not old enough to control the car, the parent can use the remote control to drive the car while enjoying the child's face light up.
CAR SPECIFICATIONS:
Color: Black
Three Spoke Steering Wheel and Horn
Opening Doors & Hood
Working LED Headlights, Red Grill Lights
Working Gas Pedal
Four wheels drive
EVA Foam Rubber Tires for Traction on Hard Surfaces
Shock Absorbers
LED Volt Meter
Forward & Reverse Gears
Remote Control (2.4 GHz)
MP3/USB/SD Card Connection to Play Child's Favorite Music
2 Seats (22" wide) with Safety Belts
Top Speed: 4-5 mph
Battery: 2X 12V batteries and charger included
Car run up to 48-90 min per charge
Maximum weight: 100 lbs 
Maximum rider height: 3'8"
Product Shipping Dimensions: 59x33x18 inches
Car Size: 57x36x36 inches (1/4 scale)
Shipping Weight: 87 pounds
Recommended Age: 2 to 7 years old
Some Assembly Required
PLEASE NOTE:
Kids 2-4 years old ride together. Kids 5-7 years old, one rider at the time.
☀️ These cars have a plastic body, so minor blemishes in the plastic or chrome parts can occur during the shipping process; this is normal. However, clients are expected to communicate with our technical support team immediately if a product was received significantly damaged.
ENJOY YOUR JEEP RIDE-ON CAR!!!
☀️ MiniMotoToys offers a 6-Month Warranty on parts excluding batteries, tires, and chargers. All products come with Lifetime tech support. All replacement parts for all of our toys are in stock!
For more questions about this product, don't hesitate to contact us.