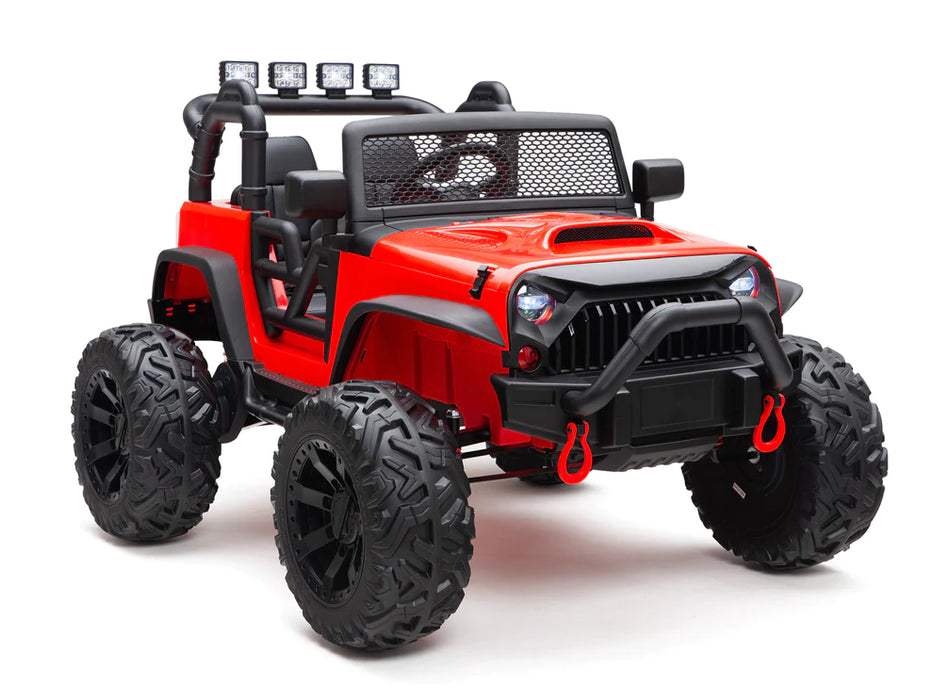 Kids 24V Battery Operated Ride On Truck Remote Control Leather Seat EVA Tires - Red
Kids Electric Ride On Car - Off-Road Electric UTV Truck 
2023 New Version-Best for hard rock and gravel
Powerful Edition 
 A 24-volt Battery Power Off-road car! One of the giant 1-seat Ride-On models in the market, this kids' Electric car has a fantastic design detail for a 1-person (2-5 years old) seating area complete with adjustable play seat belts.
UTV Ride On Car will make a fabulous present for your child's next birthday. 1- Eco leather seats and shock absorbers will provide your baby with a very soft drive!
☀️ Powerful edition! Exclusive UPGRADE!
Drive Motors: 2 x 24V 200W HD Gearboxes
Comfortable leather seat for ONE
Upgraded Huge EVA RUBBER TIRES – 14 Inches. 
Select from 3 speeds forward via remote (2/4/6 MPH)
Rechargeable 24V 7Ah Battery Pack
Media Player with Bluetooth/USB/MP3 Interface & Volume Controls
Front and rear spring suspension
Push-Button Start with Start-Up Sounds
LCD Voltage Display
Slow Start Then Gently Accelerates Up Fast Speed.
New 2.4G Remote Control with Stop Emergency Button for Parents. 
Speed: 2 Gears (Approx 2/4/6 MPH)
Weight capacity of 77 lbs
Perfect for children 2-5 years of age
Dimensions: 48"L x 37"W x 31"H
Comfortable leather seat for ONE
Can be driven by a child with the steering wheel or with a remote by an adult
New Generation Remote Control 2.4G YOU CAN STOP THE CAR FROM A LONG DISTANCE!!
Also, the Remote can control the speed of the car and direction Forward, reverse, Left, and Right. If your Kids are not big enough to control vehicles themselves, you will be joyful to do it for them.
During the OFF-ROAD driving, load your favorite songs via USB, SD. MP3, Bluetooth, TF Card.
This option allows you to listen to your favorite music from your phone remotely.
Maximum weight 77 Lbs,  (seat width 17 inches), spring suspension. Three-spoke steering wheel, opening doors, and hood. Working LED headlights, working gas pedal, and horn. LED voltmeter, forward and reverse gears, two-wheel drive.
If your kids are not big enough to control the vehicle themselves, you will be joyful to do it for them taking the remote control in your hands!
Please NOTE:
☀️ MiniMotoToys offers a 6-month Warranty on electric parts, excluding batteries, tires, and Chargers. All products come with Lifetime tech support. All replacement parts for all of our toys are in stock!

☀️ Please note: these cars have a plastic body and minor blemishes in the plastic or chrome parts can occur during the shipping process. However, clients are expected to communicate with our technical support team immediately if a product is received significantly damaged
This item cannot ship to California, Alaska & Hawaii addresses.
For more questions about this product, don't hesitate to get in touch with Us
                                            ENJOY YOUR UTV RIDE!!!