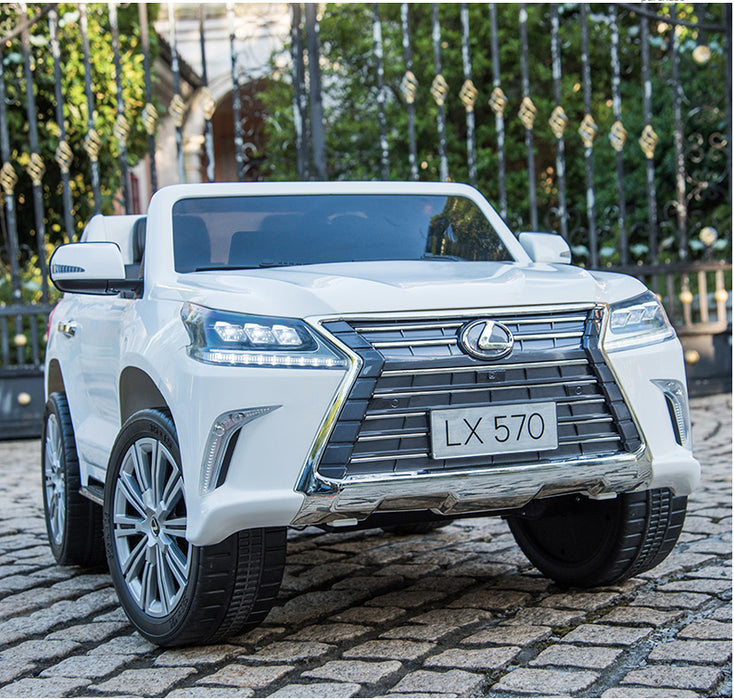 Electric Licensed Lexus LX 570 White, 2-Leather seats, 2.4G remote with Stop button, 4 motors, EVA Rubber Wheels
Lexus LX 570 2022 Model Ride on SUV for all Lexus Fans! Licensed by Lexus. Discover the Luxury of Freedom. Beautiful White Painted Body!
Kids Ride on Toy Car With a convenient carrying handle! 2.4 G Remote Control with Stop button for parents.
☀️ POWERFUL Upgrades! 
Our 2022 Model electric ride on Lexus LX 570 features options such as
4 Upgraded Bigger motors- 55 Watts Each
Two Comfortable Leather Seats
EVA Big rubber wheels
MP4 TV screen*** Your children will be able to watch their favorite cartoons and get more travel pleasure.
Full Function Electric Pedal Controlled and Four-Way Remote Controlled.  
One of our outstanding features - big rubber wheels, ensuring that kids can keep trucks in whether they are riding on grass, hard surfaces such as concrete, and rough terrain.
Lexus has plenty of durability and safety features: 2.4G new generation Remote Control - you can stop the Ride On Car at a long distance when your child is driving near potential danger.
Also, the remote can control the car's speed and direction: Forward, Reverse, Left, and Right.
If your kids are not big enough to control the vehicle themselves, you will be joyful to do it for them taking the remote control in your hands! Two doors can be opened with real keys!
CAR SPECIFICATIONS:
Color: White
Four-wheel suspension system
2.4G Parental remote control
Working LED Head & Tail Lights
EVA Rubber Wheels
Horn and startup sound
Real door keys
Forward and reverse gears
4 Upgraded motors- 55 Watts Each
Top Speed: 3 to 5 MPH
Battery run time: 45 to 60 minutes, depending on the weight and road
MP4 TV screen
Adjustable Volume, MP3, USB, SD Card
Radio, Bluetooth, Music Player
Rechargeable 2 x 12V battery
Car size: 50x30x25 inches (LWH)
2 Leather seats
Seat Width: 18 inches
Maximum rider weight 75 Lbs
Perfect for kids 2 to 6 Years old
PLEASE NOTE:
Kids 2-4 years old ride together. Kids 5-6 years old, one rider at the time.
☀️ These cars have a plastic body, so minor blemishes in the plastic or chrome parts can occur during the shipping process; this is normal. However, clients are expected to communicate with our technical support team immediately if a product was received significantly damaged.
ENJOY YOUR LEXUS RIDE-ON SUV!!!
☀️ MiniMotoToys offers a 6-Month Warranty on parts excluding batteries, tires, and chargers. All products come with Lifetime tech support. All replacement parts for all of our toys are in stock!
For more questions about this product, don't hesitate to contact us.