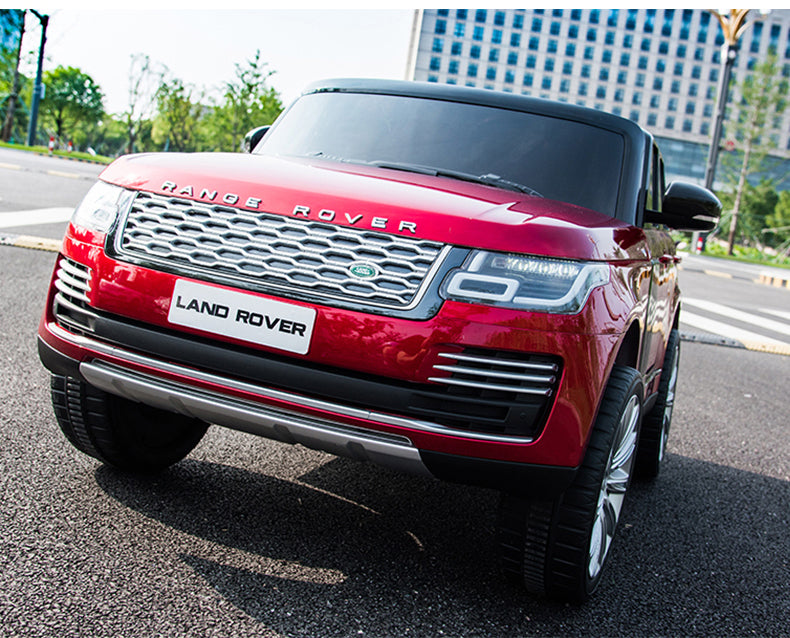 24 Volt Electric Ride On Range Rover Land Rover 2 Seats 2 Motors 240 Watts Remote Control
Licensed Range Rover 999 Sport Supercharge-24 Volt Battery- New 2023 Model- Red Paint.
This Electric Mini Range Rover Sport demonstrates a powerful performance and luxury, elegance, and unique style!
Range Rover Sport for kid's ride-on cars is well-packed with both manual and remote control capabilities. The manual controls give the kid control of the car while the remote control is for the parent to offer a way to keep the kids safe as they ride. 
☀️ New upgraded options for the 2023 model!
Range Rover comes with three-speed settings on the remote control - forward & reverse. This allows you to change the speed limit according to your child's skill level. 
Drive Motor Configuration: 2 x 24V Rear Wheel Drive.
2.4G remote control! You can stop the car from a distance when your child is driving near potential danger.
MP4 TV screen (your children will be able to watch their favorite cartoons and get more travel pleasure).
Exclusive low noise explosion-proof rubber wheels - exclusive Minimototoys option!
Two-refined (durable) leather seats.

Maximum age 2-5 years old. 
With a 24-volt battery, the car can reach a maximum speed of up to 6 km/h!
USB/SD card, AUX/MP3 input, and many other features make it fantastic for your kids to cruise in the Land Rover kids' cars.
This kid Range Rover Sport Ride will be perfect for kids 2 to 5 years old. When you get your child their dream Range Rover Sport kid car, they are filled with so much joy, and they feel better about themselves. Because of the joy and how good they feel about themselves, they can interact with other people. This not only improves their social skills but also helps in their emotional development.
CAR SPECIFICATIONS:
Color: Red
Power indicator
Seat belts
Doors can be opened
LED lights (front & back)
Real suspension
Drive Motor Configuration: 2 x 24V Rear Wheel Drive
MP4 TV screen
USB/SD card, AUX/MP3 input
Opening doors
New generation 2.4 g remote control with the brake button
Battery play time is 40 to 80 Minutes depending on weight and road
Max speed: 5 mph
Seat Size: 21 inches
Car Size 57*L x 31* W x 26* H.
Battery: 24 volts.
Maximum rider weight: 100 lbs
Perfect age 2 to 5 years old.
PLEASE NOTE:
This item cannot ship to California addresses.
Kids 2-3 years old ride together. Kids 4-5 years old, one rider at a time.
Some assembly is required.
☀️ These cars have a plastic body, so minor blemishes in the plastic or chrome parts can occur during the shipping process. However, clients are expected to communicate with our technical support team immediately if a product is received significantly damaged.
ENJOY YOUR RANGE ROVER RIDE-ON CAR!!!
☀️ MiniMotoToys offers a 6-month Warranty on electric parts, excluding batteries, tires, and Chargers. All products come with Lifetime tech support. All replacement parts for all of our toys are in stock!
For more questions about this product, don't hesitate to contact us.