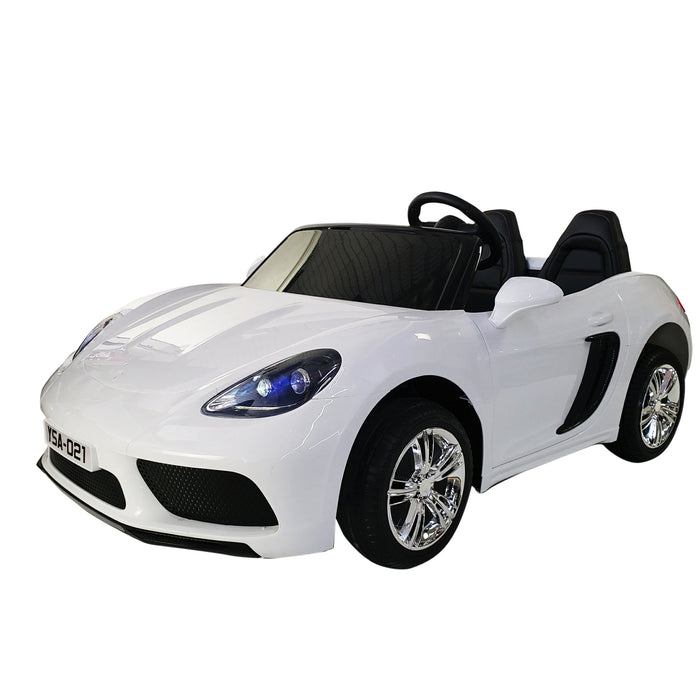 24 volts Electric XXL PANAMERA Car SUPER POWER 180 Watt Brushless motor 2 Wide Leather Seats
Fast, super-quiet, and fun to drive!
The quintessential kids "dream car", this 24V Super Sport GT is miles ahead of any other "ride-on" – it offers many features only found on real vehicles - inflatable tires, a differential gearbox, disc brakes, even a parking brake! A quiet 180W brushless motor powers this car and combined with variable acceleration makes it fun and easy to drive on any asphalt or cement pavement up to 10 mph. The 24V Super Sport GT is designed for kids ages 6 to 12 and therefore doesn't use a remote. It comes mostly assembled – only the steering wheel and seats need to be mounted. 
SuperSport GT XTR: (180W Brushless motor and 24V 14Ah Longway Battery)

The XTR version comes with a double-capacity 14Ah battery for Extended Driving Range.

Features:
Variable Speed Acceleration (Max of 9 - 10 mph)
High/Low-Speed Switch plus Reverse Shifter
12" Inflatable Rubber Tires with Ball Bearings
Rear Disc Brakes
Parking Hand Brake
For Ages 6 to 12 with a 200 lb Capacity
Adjustable Steering Column Length
Dual Leather Seats
Functional Headlights with an On/Off switch
Rear Working Brake Lights
Opening Doors
USB/MP3 Media Player with Bluetooth
24V Smart Charger
Charging Time: Approx 8 Hrs.
Specifications:
Color: Spray Painted WHITE 
Swappable 24V 14Ah Battery
Drive Motor: Heavy-Duty 180W Brushless
Differential Gearbox Mounted on Rear Axle
Speed: 2 Gears (9-10 MPH Max)
Dimensions: 66"L x 41"W x 28"H
110V Wall Charger
Adult Supervision Required
 Note that due to the size of this car, it cannot be shipped to apartments and it needs to be stored in a garage. Shipping time for this item is usually 2 weeks.
  No California Sales - This item cannot ship to California addresses.


PLEASE NOTE:
☀️ These cars have a plastic body, so minor blemishes in the plastic or chrome parts can occur during the shipping process; this is normal. However, clients are expected to communicate with our technical support team immediately if a product is received significantly damaged.
ENJOY YOUR LUXURY PANAMERA RIDE-ON CAR!!!
☀️ MiniMotoToys offers a 6-month Warranty on parts excluding batteries, tires, and chargers. All products come with Lifetime tech support. All replacement parts for all of our toys are in stock!
For more questions about this product, don't hesitate to contact us.